PV Solar security system
PV Solar protection systems against theft and vandalism
Renewable energy sources, such as solar power, are rapidly transforming our world. In the past few years, we've seen an influx of solar technology - from small-scale island plants to expansive hillside utility installations. With increasing environmental awareness and rising costs of traditional fuels, this clean energy is more important than ever in helping us maintain a sustainable future for generations.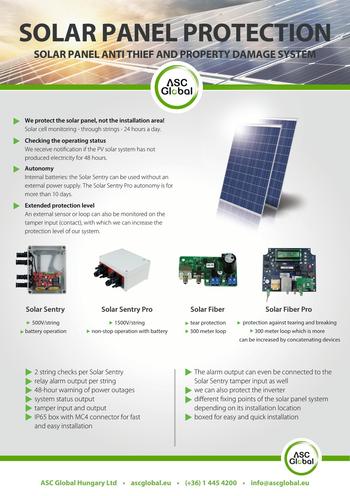 Investing in a solar panel system can offer significant returns, but ensuring your system's smooth and reliable operation is critical to maintaining this profitability. Malfunctions, vandalism or theft, could all lead to production outages that translate into lost profits - however, monitoring equipment such as wiring continuity and operational capacities are not always part of existing systems' capabilities. To guard against unexpected losses due to external factors, owners of solar panel systems need to maintain vigilance over their investments' health.
To keep solar panel systems safe and secure, there are a variety of measures we can take. We may use CCTV or microwave/infrared sensors for area protection, put up fences to deter theft or employ step detection technology. Additionally--or as an alternative--we provide "string"-based security which helps process data directly from the panels themselves in case of physical removal. With this approach, monitoring the system is more precise than ever before!
With a protective "string" system, we can stay connected to the solar panels and gain continuous access to their data. No other method can match this swiftness of ensuring that our solar structures remain safe from all kinds of disturbances - including vandalism, thievery or lack of energy production. It works around the clock, so reliable security is always ensured!
With Solar Sentry, the owners can rest assured knowing their solar panels are constantly monitored. The system utilizes voltage tracking and quick connectors for easy installation on the circuit to detect any theft or short-circuiting incidents - day or night! Notifications with five different types of outputs assure you that your power supply is flowing correctly. Invest in this simple solution today for peace of mind tomorrow!
With the Solar Fiber product family, you can easily and quickly install a protective loop consisting of an optical fiber threaded through your strung solar panels to monitor their safety. This system alerts when breakage or tearing occurs and prevents displacement from physical movement, allowing for reliable performance across diverse installation locations!