The EniCom 4G communicator is recommended where backup signal transmission and EN54-21 certification are required. The GSM module is an ideal solution for signal transmission of fire alarm centres via the GSM/GPRS/LTE/IP channel.
4 doubling inputs (8 inputs): NO/NC /EOL/ 2 EOL/ zone doubling
2 OC outputs NO/NC/Follower (input, output, event)
Expansion option with the EC-84 expander: 8 inputs, 4 outputs/expander, max. 8 pcs EC-84 expanders
Forwarding to 4 remote monitoring servers, with multiple route options
256 event log with time stamp
2G/4G connection, Dual SIM nano (2 SIM cards)
Ethernet connection
Cloud connection
SIA DC-09 protocol
EN 54-21 certification
EniCom 4G communicators are recommended for security and fire protection applications, where the signal transmission to the remote monitoring centre must be solved by providing a redundant transmission path. The main transmission direction is the Ethernet network; the mobile network (GPRS, LTE) can be used as a backup. In all cases, communication takes place using a standard IP-based protocol.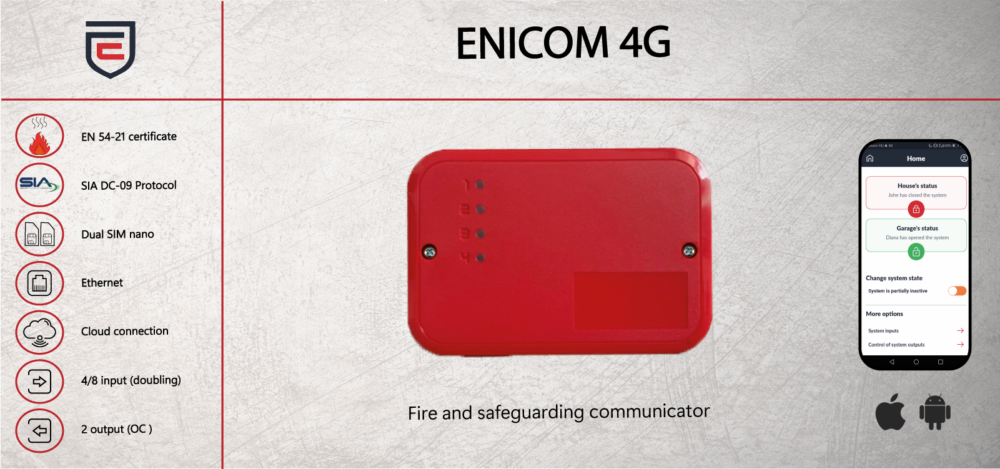 EniCom 4G communicators can send messages to the monitoring station receiver(s) via Ethernet or mobile internet. Four independent communication paths can be defined, each with 3 communication channels (Ethernet and Modem: 2pcs GSM/4G networks, thanks to the 2 SIM cars), to which four arbitrary servers can be assigned on different media (Ethernet or GPRS/LTE).
The communicator can manage two SIM cards, so if the primary service provider is unavailable, it can also connect to the network of the secondary service provider.
The loop type of the inputs can be programmed as NC or NO, without or with 1 or 2 EOL resistors, or can be doubled using 3 EOL resistors. The standard value for EOL resistors is 1kΩ. In case of zone doubling, the 3rd EOL resistor should be 2kΩ. EC-84 expansion module selectable input types NO/NC EOL.
Instant two-way transfer (Contact ID)
Plastic housing, SMA antenna connector
Automatic configuration of network settings (DHCP)
Send to four remote monitoring stations via Ethernet
Send to four remote monitoring stations on GPRS/HSPA/UMTS
Backup / Parallel / GPRS/HSPA/UMTS transmission modes only
Remote programmability
SMS forwarding to 1 specified phone number
256 event buffer memory
Encryptable communication
Configuration via USB and Cloud
The main functions can be programmed with SMS messages
Four own inputs that can be doubled with adjustable event codes can be expanded with EC-IO84 panel with 8 inputs and 4 outputs (optional) max. 8 can be connected (64/32 inputs/outputs in total)
Upgradeable firmware
For more information please check the website or contact us.