We recently presented the EniCom 4G, the EN54-21 communicator for fire alarm signals. While EniCom 4G can currently transmit input signals to remote monitoring, EniCom 4G Pro can also receive Contact ID messages via the line input to forward via a WIFI connection.
EniCom 4G Pro
4 doubling inputs (8 inputs): NO/NC /EOL/ 2 EOL/ zone doubling
1 OC outputs NO/NC/Follower (input, output, event)
1 relay outputs NO/NC/Follower (input, output, event)
PSTN line simulation to receive the Contac ID events
Expansion option with the EC-84 expander: 8 inputs, 4 outputs/expander, max. 8 pcs EC-84 expanders
Forwarding to 4 remote monitoring servers, with multiple route options
256 event log with time stamp
2G/4G connection, Dual SIM nano (2 SIM cards)
Ethernet and WiFi connection
Cloud connection
SIA DC-09 protocol
EN 54-21 certification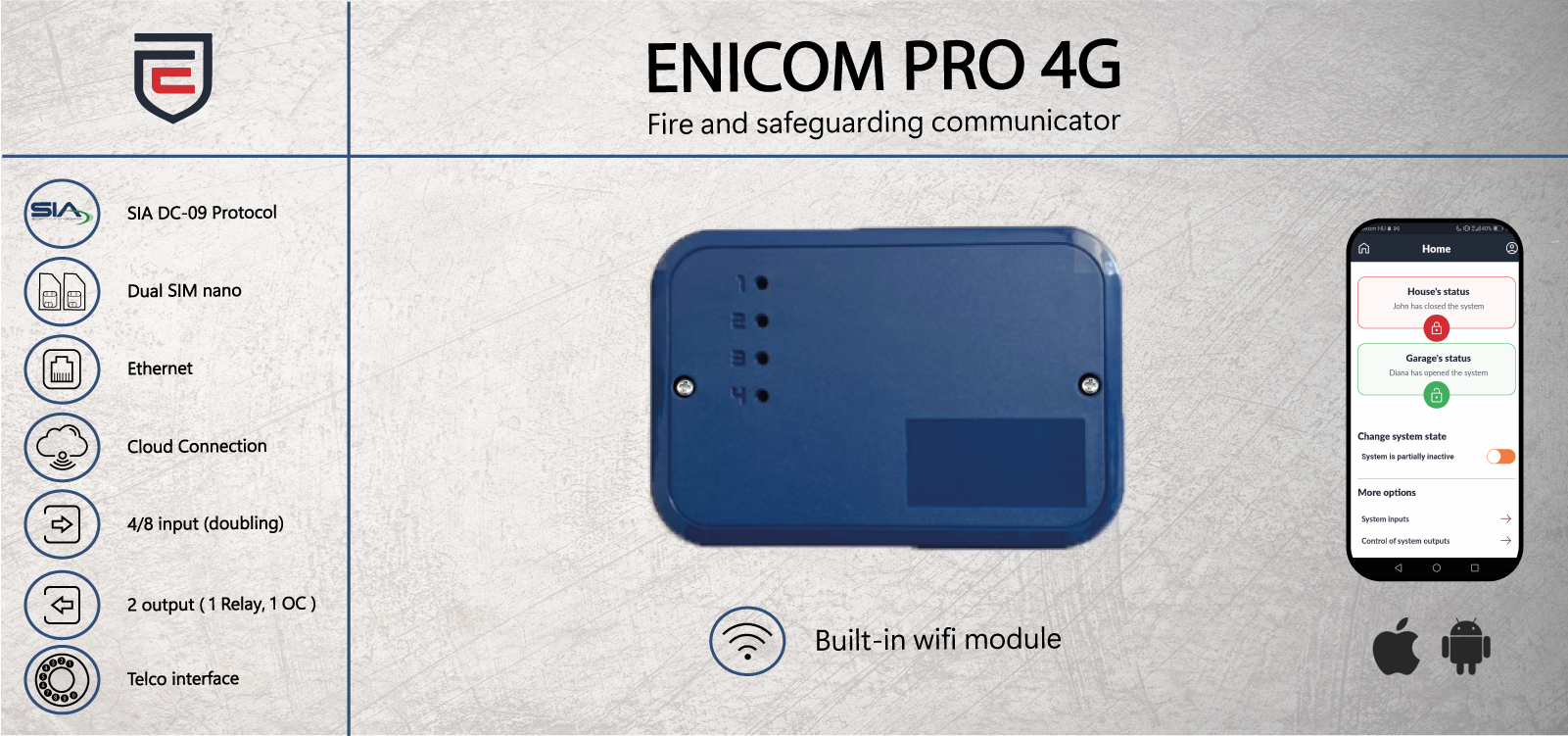 EniCom 4G Pro communicator is recommended for security and fire protection applications, even when sending alarms to the monitoring station requires backup channels. The primary channel is the Ethernet network; the mobile network (GPRS, LTE ) or the Wi-Fi network (optional) can also be used as the secondary/backup channels. The reporting is the Ademco IP protocol.
The EniCom 4G Pro communicator must be connected to the TIP/RING of the alarm panel: the built-in telephone interface simulates the telephone line. In case of an alarm, the communicator receives the signals via the line connection of the alarm panel and forwards it to the monitoring station via the given communication channels. You can also set how the communicator acknowledges the received events to the monitoring station during the setup procedure. By default, it acknowledges immediately, but if the "Passthrough" option is used, the event has already been successfully submitted on one of the routes. This allows for slower, but in many cases, more secure transfers.
The EniCom 4G Pro communicator can also receive alerts from the centre on its inputs to forward to the monitoring station via the Ethernet / WIFI / Mobile (LTE) network.
Four independent communication paths are available, each with 4 different communication channels (Ethernet, WI-FI and Modem: 2pcs GSM/4G networks, thanks to the 2 SIM cars). Up to four arbitrary servers can be assigned on different media (Ethernet or GPRS/LTE).

EniCom 4G Pro communicator can be connected to our cloud service,  for free. This is entirely independent of the application and the reporting routes set up. The cloud connection allows remote control.