Description
InterCom GSM Kit Forrest
Introducing the InterCom GSM Kit Forrest – a one-of-a-kind communication solution with a green exterior. The wall-mounted unit is specifically designed for use in forests, national parks, and nature in case of emergencies, information, or access control to the gates. Currently, the unit is available in green, but customization options for colour and label are also readily available.
Eight phone numbers
Get immediate assistance with InterCom GSM Kit Forrest - it can notify up to 8 phone numbers of your choosing with customizable ring and conversation times. Plus, you can even include authorities' phone numbers for added security! Press the button, and the calls will be round-robin until someone answers.
SMS sending
Send SMS notifications easily with just a button press! Input your desired message and choose who among the eight specified phone numbers will receive it. Set your preference for sending an SMS, calling, or both. 
GPRS transmission
You can also set a monitoring station notification by pressing the push button. Streamline your GPRS feed and take remote monitoring to the next level. Set up push button notifications with customer details, events, and zones, and choose between SIA DC and Enigma protocols for seamless integration. Trust us to ensure your transmissions are secure and reliable. The periodic life sign helps you know that everything is fine with the device.
Notification order
We can specify the notification as mentioned above types by pressing the button. If we set them all, they will be implemented in the following order:
GPRS transmission for the monitoring station

Sending SMS to specified phone numbers (max. eight phone numbers)

call initiation to selected phone numbers (max. eight phone numbers)
If both SMS sending and calling are set for a phone number, it can be advantageous that the person in question will be informed of the event before receiving the call.
24/7 operation, LED lighting
Keep your InterCom GSM Kit Forrest up and running with the option to connect a ProBattery for continuous operation, even during power interruptions. The GSM module can send SMS and voice message alerts during these events. Plus, with the battery, the LED lighting will also stay on, making locating the unit in the dark easier. Choose between LED colours and enjoy the illumination of the label when you push the button in the evening.
Internal microphone and speaker
Adjust the volume of your device's internal microphone and speaker to match the surrounding noise level. Easily tweak the sensitivity for optimal listening experiences.
Sending a life test
With the life test function, you can specify the interval at which the InterCom GSM Kit Forrest should send SMS notifications, thanks to which we can ensure the device is working. If a data SIM card is used, sending a GPRS life sign for remote monitoring is possible, so we get a continuously monitored device.
Outputs
After receiving the call, you can also control two relay outputs. We can handle the outputs separately with our phone. The output can be controlled from unlimited phone numbers without phone number identification and from 1000 phone numbers with phone number identification. The output control method (bi- or monostable) and time can be specified for each output.
Installation and programming
Straightforward and speedy device installation made possible! Even programming can be taken care of before on-site installation. The plastic box's inner surface features groove ideal for secure fastening and connecting power and antenna cables. Crucial tip: ensure the antenna is placed outside the box to guarantee correct field strength.
For programming, opt for our recommended USB Eco or USB kit, or select our WiFi/Bluetooth Programmer for a wireless connection. Our free ProRead program (PC) can be downloaded from our website, allowing equipment programming and event log analysis. With a 16000 event log, you can easily verify time-stamped outgoing calls and remote supervision transfers.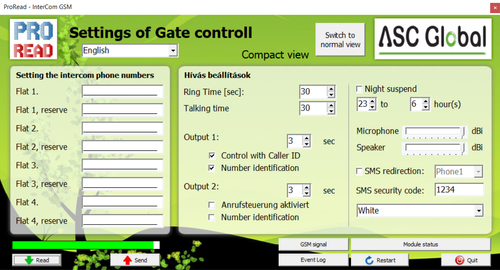 Application areas:
Wireless intercom

Control: gate, barrier, and garage door opening

Monitoring power supply (230V) along with sending notifications about its change

In forests, national parks, nature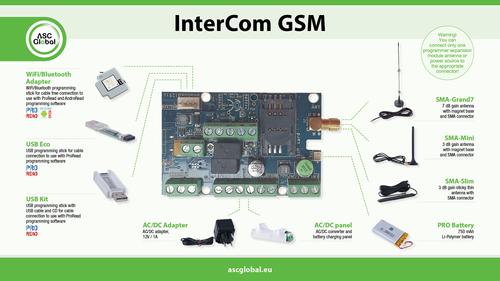 Product features
| | |
| --- | --- |
| Inputs (+ expander): | max. 5 |
| Relayed Outputs (+ expander): | 2 |
| Relayed output load: | max. 20V@500mA |
| OC outputs (+ expander): | |
| OC output load: | |
| User phone numbers for sending notifications: | 8 |
| User phone numbers for output control: | Unlimited / 1000 phone number |
| Independent signal sending to monitoring center: | |
| User phone numbers for forwarding incoming SMSs: |    /1 |
| Transmission channel: | GSM/GPRS |
| Caller identification: | |
| Alarm center function (arm/disarm, entry/exit delay) | |
| Selectable 24h zones: | |
| Adjustable input sensitivity: | |
| Configurable inputs (NO/NC): | |
| Independent SMS sending to user phone numbers with customized text: | |
| Monitoring station phone numbers: | 2 |
| Periodic test report sending: | |
| Sending recorded voice messages to user phone numbers: |    /6(+1) |
| Sending alarm to user phone number with a siren sound: | |
| Inbuilt internal clock: | |
| Event list / number of stored events: | 16 000 |
| GSM siognal strength monitoring and logging hourly | |
| Translation Contact ID codes into SMS along with sending it to user phone numbers (Distinguishing 250 events and 250 zones) | |
| Configurable own Contact ID codes: | |
| Telephone line simulation: | |
| PSTN phone line monitoring: | |
| Output activation with free GSM call: | |
| Security SMS password: | |
| Programming software(PC, Android): | |
| Programming method: | USB / SMS / Bluetooth / WIFI |
| Battery connection options: | |
| Power drain (standby/transmitting over GSM): | 40mA + external unit current consumption / 400mA + external unit consumptiom |
| Simulated line/transmitting over GSM: | |
| Power voltage: | 9-20 VDC |
Parameters
| | |
| --- | --- |
| Power voltage | 9-20 VDC |
| Standby power drain | 40 mA + external unit current consumption |
| Maximum power drain | 400 mA + external unit current consumption |
| Relay output load | max.20V / 500 mA |
| GSM module type | SIMCOM 900 |
| GSM frequencies | GSM 850 / EGSM 900 / DCS 1800 / PCS 1900 (Multi-Band) |
| SIM card usage | brand free GSM module |
| GSM antenna type | SMA connector |
| Size | 78 x 51 x 20 mm, in package:132 x 128 x 32 mm |
| Operating temperature | -20°C – +50°C |