Description
How can you save time with the installation of the MultiOne GSM Cloud Kit?
The MultiOne GSM Cloud provides Plug & Play installation possibilities. Hence, the device is ready to use without programming.
How many phone numbers can control the output for free?
The module has a relayed output that can be controlled with a free voice call using caller identification. Control phone numbers (250/500) are stored on the SIM card which is inserted into the module. By using this function, only those phone numbers can open the gate which is stored on the SIM card. Without caller identification, the module can be controlled from any telephone number. Therefore, the MultiOne is a GSM gate controller that can open the gate by any incoming calls.
Thanks to Cloud communication you can control the MultiOne GSM Cloud via the Cloud Manager application (Android and iOS too) with unlimited users. In the application, you can get also information about the input and the status of the module.
 Why is the MultiOne GSM Cloud a reliable and multi-purpose GSM remote controller?
Due to the output relay, which maximum load is 5A and 230 VAC /24 VDC, even lights, air conditioners, and garage doors can be controlled remotely. Output can operate in monostable or in bistable mode; when in monostable mode maximum control time is 250 seconds. Output type can be normally closed or normally open.
How can you monitor devices with SMS transmission possibilities?
The GSM communicator can send an SMS to a previously stored phone number about its input change. Howbeit, the module can forward an SMS about the alarm centre's arming. For security reasons, the module is equipped with an optocoupler voltage input. Voltage arriving at the input can be between 5-30 V.
What makes the MultiOne GSM Cloud an easily programmable GSM device?
Basic module settings are adjustable with the DIP switches, including caller identification, as well as the output type. Telephone numbers for SMS sending and output control duration in monostable mode can be set with SMS commands. In the Cloud, you can check the event list, manage the users and set up the PUSH and also the e-mail notification messages. 
Application Areas
GSM gate controller

GSM barrier controller

Home automation (air conditioner, heating system, sauna, lighting)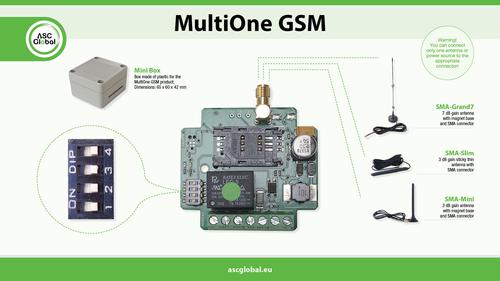 Product features
| | |
| --- | --- |
| Inputs (+ expander): | 1 |
| Relayed Outputs (+ expander): | 1 |
| Relayed output load: | max. 230VDC@5A |
| OC outputs (+ expander): | |
| OC output load: | |
| User phone numbers for sending notifications: | 1 |
| User phone numbers for output control: | Unlimited / 250/500 phone number |
| Independent signal sending to monitoring center: | |
| User phone numbers for forwarding incoming SMSs: | /1 |
| Transmission channel: | GSM/GPRS (data) |
| Caller identification: | |
| Alarm center function (arm/disarm, entry/exit delay) | |
| Selectable 24h zones: | |
| Adjustable input sensitivity: | |
| Configurable inputs (NO/NC): | |
| Independent SMS sending to user phone numbers with customized text: | |
| Monitoring station phone numbers: | |
| Periodic test report sending: | |
| Sending recorded voice messages to user phone numbers: | |
| Sending alarm to user phone number with a siren sound: | |
| Inbuilt internal clock: | |
| Event list/number of stored events: | |
| GSM signal strength monitoring and logging hourly | |
| Translation of Contact ID codes into SMS along with sending it to user phone numbers (Distinguishing 250 events and 250 zones) | |
| Configurable own Contact ID codes: | |
| Telephone line simulation: | |
| PSTN phone line monitoring: | |
| Output activation with free GSM call: | |
| Security SMS password: | |
| Programming software(PC, Android): | |
| Programming method: | SMS/DIP Switch/Cloud |
|  í6 Battery connection options: | |
| Power drain (standby/transmitting over GSM): | 25mA/700mA |
| Simulated line/transmitting over GSM: | |
| Power voltage: | 16-24 VAC 10-35 VDC |
Parameters
| | |
| --- | --- |
| Power supply | 16-24 VAC or 10-35 VDC |
| Standby / maximum current drain | 12V@25mA/700mA, 24V@15mA/350mA |
| Output relay load | max. 230V@5A |
| GSM modem type | SIMCOM 800 |
| GSM frequencies | GSM 850 / EGSM 900 / DCS 1800 / PCS 1900 (Multi-Band) |
| SIM card usage | carrier-free module |
| GSM antenna type SMA connector ( the package contains) | |
| Size | 59 x 53 x 21 mm, package size:132 x 128 x 32 mm |
| Operating temperature range | -20°C – +50°C |