Description
The EasyLine GSM simulates an analog telephone line (PSTN) along with forwarding voice messages from the alarm center to the monitoring receiver through the GSM network.
Plug & Play: the GSM line simulator can be used without programming.
The GSM line simulator can forward the most widely used protocols (Contact ID, 4/2, or SIA FSK). It transmits the codes generated by the alarm center in the form of a voice call on the simulated line through the GSM network.
Programming is possible by SMS commands from any number by using security code. The GSM line simulator can be programmed by using a landline phone connected to the TIP/RING connector.
By default, input is close (NC), which will send a notification to a predefined telephone number if there is a rupture.
It is equipped with one OC output, which can be controlled by free call with caller identification with 250/500 user phone number depending on the type of the SIM card. 
Application areas:
Simulated line instead of the analog phone line

GSM Line simulator for alarm centers

Control: arming/disarming alarm center

Providing GSM line at telephone centers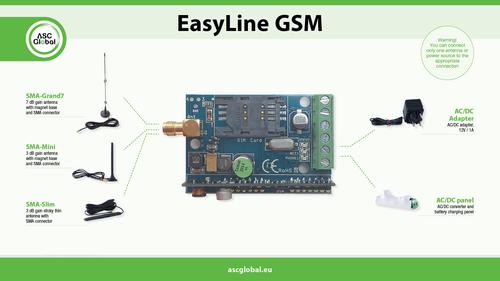 Product features
| | |
| --- | --- |
| Inputs (+ expander): | 1 (NO) |
| Relayed Outputs (+ expander): | |
| Relayed output load: | |
| OC outputs (+ expander): | |
| OC output load: | max. 30V@400mA |
| User phone numbers for sending notification: | 1 |
| User phone numbers for output control: | Unlimited or 250/500 phone number |
| Independent signal sending to monitoring center: | |
| User phone numbers for forwarding incoming SMSs: | /1 |
| Transmission channel: | GSM/GPRS |
| Caller identification: | |
| Alarm center function (arm/disarm, entry/exit delay) | |
| Selectable 24h zones: | |
| Adjustable input sensitivity: | |
| Configurable inputs (NO/NC): | |
| Independent SMS sending to user phone numbers with customized text: | |
| Monitoring station phone numbers: | |
| Periodic test report sending: | |
| Sending recorded voice message to user phone numbers: | |
| Sending alarm to user phone number with siren sound: | |
| Inbuilt internal clock: | |
| Event list / number of stored events: | |
| GSM siognal strength monitoring and logging hourly | |
| Translation Contact ID codes into SMS along with sending it to user phone numbers (Distinguishing 250 events and 250 zones) | |
| Configurable own Contact ID codes: | |
| Telephone line simulation: | |
| PSTN phone line monitoring: | |
| Output activation with free GSM call: | |
| Security SMS password: | |
| Programming software(PC, Android): | |
| Programming method: | SMS / DTMF |
| Battery connection options: | |
| Power drain (standby/transmitting over GSM): | 30mA/700mA |
| Simulated line/transmitting over GSM: | |
| Power voltage: | 9-20 VDC |
Parameters
| | |
| --- | --- |
| Power voltage | 9-20 VDC |
| Standby power drain | 80 mA |
| Maximum power drain | 1000 mA |
| Open Collector output load | max. 30V/300 mA mA |
| GSM module type | SIMCOM 900 |
| GSM frequency | GSM 850 / EGSM 900 / DCS 1800 / PC 1900 (Multi-Band) |
| SIM card usage | brand free GSM module |
| GSM antenna type | SMA connector (comes with package) |
| Dimensions | 62 x 42 x 16 mm, packed:132 x 128 x 32 mm |
| Operation temperature | -20°C – +50°C |