The SecuriForum exhibition will be held this week on Wednesday and Thursday in the Lurdy Event Center in Budapest. You will find us at the K2 stand this year, where we cordially invite you.
What are we preparing for this year's exhibition?
Solar Sentry solar protection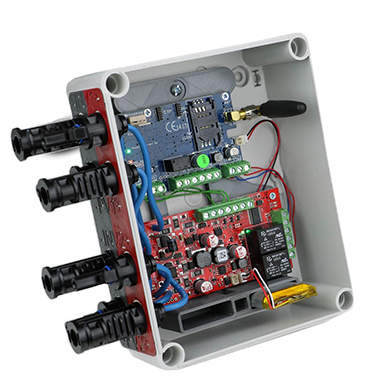 This year's new product is the Solar Sentry and Solar Sentry Pro solar protection systems, which monitor the solar panels through the stings. From September, in cooperation with the Signal Iduna insurance company, we can provide full insurance for the systems in Hungary.
The Solar Sentry can handle 500V/string, while the Solar Sentry Pro can handle 1500V/string. At the exhibition, we will present the GSM and 4G versions of Solar Sentry, which also provide monitoring station notifications.
The basic system is assembled with 2 strings, but depending on the size of the solar system, we can also assemble individual systems. A 12-string Solar Sentry Pro system will also be presented at the exhibition.
GSM intercom and emergency call
We will present the boxed "Kit" version of InterCom GSM in several designs, so in addition to the 1, 2, and 4 apartment versions, the emergency call version will also be available at our stand. The InterCom GSM Kit includes the speaker, microphone, and the place for the battery (ProBattery), so only the power supply and the SIM card must be provided for installation. Programming with the ProRead program can be quickly done via a USB or BT/WIFI connection.
We look forward to seeing you because:
- we are curious about what happened to you since the last time we met,
- we would be happy if you could share your experience and ideas,
- we will answer your questions personally,
- and to talk a little :)
We look forward to seeing you again this year:

REGISTRATION: https://www.securiforum.com/?lang=en#regisztracio
You can register for the exhibition here as a visitor. Registration is mandatory for visitors to enter the exhibition and the conference, but registration is free if done in advance. Pre-registered visitors will receive their entry card on the spot within minutes.
Let's meet at the ASC Global stand (K2)!