Description
The InterCom GSM two apartments outdoor unit is equipped with metal push buttons. We can enter a maximum of 8 phone numbers to be notified. The phone numbers can also be called using a round call, i.e. everyone has to pick up, or the first person to pick up stops the round call.
The talk time and the ringing time can also be set. It establishes a connection with the called number on a GSM network, so the distance is unlimited, and only the power supply needs to be provided to operate the device. LED lighting is placed in the upper part of the box, the colour of which can be adjusted and ensures the illumination of the nameplate and the push button.
After answering the call, we can control two outputs separately. Howbeit, the device allows us to handle, for instance, a gate and a magnetic door separately.
We can manage the output from 1000 phone numbers by using caller identification. Without caller identification, we can activate the output from any number.
The power monitor allows us to send SMSs or voice messages during a power outage. A Lithium-polymer battery, equipped with a quick connector, provides continuous operation for even 24 hours.
The programming is possible by SMS, voice menu, android (Bluetooth), or PC (USB or Bluetooth) with the ProRead software. The GSM device measures and logs the GSM signal hourly, which can be read and charted. The module can store up to 16,000 events, including the states of the inputs and outputs, power supply resets, GSM network and module state-related information, incoming and outgoing calls, and SMSs.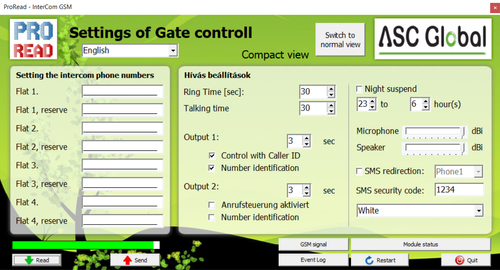 Application areas:
Wireless intercom

Control: gate, barrier, and garage door opening

Monitoring power supply (230V) along with sending notifications about its change

Lift caller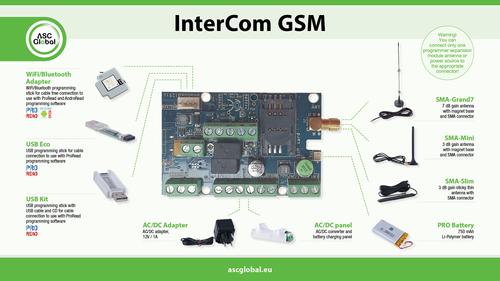 Product features
| | |
| --- | --- |
| Inputs (+ expander): | 5 |
| Relayed Outputs (+ expander): | 2 |
| Relayed output load: | max. 20V@500mA |
| OC outputs (+ expander): | |
| OC output load: | |
| User phone numbers for sending notifications: | 8 |
| User phone numbers for output control: | Unlimited / 1000 phone number |
| Independent signal sending to monitoring center: | |
| User phone numbers for forwarding incoming SMSs: |    /1 |
| Transmission channel: | GSM/GPRS |
| Caller identification: | |
| Alarm center function (arm/disarm, entry/exit delay) | |
| Selectable 24h zones: | |
| Adjustable input sensitivity: | |
| Configurable inputs (NO/NC): | |
| Independent SMS sending to user phone numbers with customized text: | |
| Monitoring station phone numbers: | 2 |
| Periodic test report sending: | |
| Sending recorded voice messages to user phone numbers: |    /6(+1) |
| Sending alarm to user phone number with a siren sound: | |
| Inbuilt internal clock: | |
| Event list / number of stored events: | 16 000 |
| GSM siognal strength monitoring and logging hourly | |
| Translation Contact ID codes into SMS along with sending it to user phone numbers (Distinguishing 250 events and 250 zones) | |
| Configurable own Contact ID codes: | |
| Telephone line simulation: | |
| PSTN phone line monitoring: | |
| Output activation with free GSM call: | |
| Security SMS password: | |
| Programming software(PC, Android): | |
| Programming method: | USB / SMS / Bluetooth / WIFI |
| Battery connection options: | |
| Power drain (standby/transmitting over GSM): | 40mA + external unit current consumption / 400mA + external unit consumptiom |
| Simulated line/transmitting over GSM: | |
| Power voltage: | 9-20 VDC |
Parameters
| | |
| --- | --- |
| Power voltage | 9-20 VDC |
| Standby power drain | 40 mA + external unit current consumption |
| Maximum power drain | 400 mA + external unit current consumption |
| Relay output load | max. 20V / 500 mA |
| GSM module type | SIMCOM 900 |
| GSM frequencies | GSM 850 / EGSM 900 / DCS 1800 / PCS 1900 (Multi-Band) |
| SIM card usage | brand free GSM module |
| GSM antenna type | SMA connector |
| Size | 78 x 51 x 20 mm, in package:132 x 128 x 32 mm |
| Operating temperature | -20°C – +50°C |